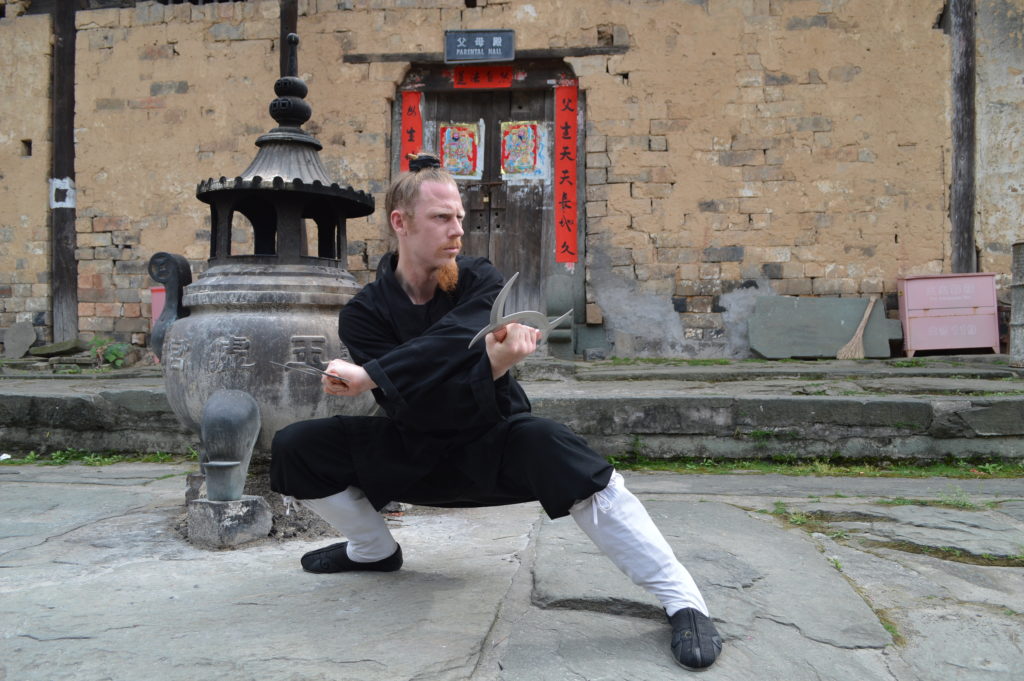 Patrick Liu, Daoist priest is the 24th generation Quan Zhen Long Men Pai named Cheng Yong 诚 勇. Master of the Wudang Xuan Wu Pai in the 16th generation and got the name Wei Lin 微 林 there. He is the director of the Wudang Temple Germany , headquarters of the German Daostische Vereinigung eV and the Wudang Pai Germany, and is the officially recognized representative of the Wudang Pai in Germany.
Liu Shifu is one of the few disciples of Master Zhou Li Can, the Abbot of Nan Wudang and the main representative of the 15th generation of Wudang Xuan Wu Pai. Grand Master and 14th Headmaster of Wudang Pai, "Taiji Zhen Ren" You Xuan De teaches him the deep secrets of the Wudang tradition.
As the first daoist priest in Germany he teaches Daoism, daoist practices and the daoist way of life and represents the Wudang Pai Germany and the German Daoistic Association all around the world.
Besides martial arts and health practice, Master Liu also teaches and practices Daoist medicine and alternative healing methods, Daoist ceremony and liturgy, talismans and rituals. He teaches at universities and faculties around the world and is a guest speaker at the most prestigious events in the Daoist community.
Unique in Germany, in addition to traditional martial arts , you can also intensively study the spiritual, medical and cultural aspects of Daoism and the Wudang Pai at Wudang Temple Germany .
Master Liu is multiple national and international Champion and Grand-Champion of martial art competitions and was gifted several awards to honour his work.
Author and translator of Daoist literature and classic texts such as Dao De Jing , Qing Jing Jing, Xin Jing, the Daoist morning and evening liturgy, etc. Own works such as Wudang – Daoism, martial arts and culture; The Collection of Inner Verses; Yang Sheng – Nourish Life; Daoism – 128 Questions & Answers; and others, are "must haves" of German Daoist literature and only available at DDV Verlag, the publishing house of the German Daoist Association.
Master Liu practices martial arts and spiritual cultivation since his childhood. He studied alternative medicine and specialized in Daoist Medicine later on. Over the years living in chinese temples and schools he developed high skills in interal cultivation, daoist rituals, ceremonies, liturgy, music and internal martial arts.
In 2005, he founded Wudang San Feng Wu Guan in Germany,
2013 Foundation of the Wudang Daoist Institute.
In 2014, Master Liu, together with Liu Wen Zhuo , founded WU DAO SHU – Wudang Daoist Arts Reasearch in Wudang Shan/China
2016 Foundation of the German Daoist Association, Patrick Liu is the chairman
In 2017, Master Liu founded Yu Zhen Guan , the first Dao temple in Germany.
2017 Foundation of the first Lao Zi College in Germany
2018 Foundation of Wudang Pai Germany. Liu Wei Lin was appointed official representative of the Wudang Pai in Germany by the headmaster You Xuan De.
2019 opening of the Wudang Temple Germany
2020 Opening of the Wudang Archives©